APDW: Asymmetric Passive Dynamic Walkers
Background
The Passive Dynamic Walker (PDW) is a mechanical biped that walks down a declined slope solely by the energy added by gravity, swinging its lower limbs just as human would while walking. In contrast to humanoid robots, which are typically in static equilibrium, humans and the PDW have a portion of the gait cycle in dynamic equilibrium (i.e., controlled free fall). While the PDW is kinematically and mathematically interesting and has been analyzed for decades, its practical application to the analysis of human gait has only recently started to be studied. Humans can be variable not only kinematically, but cognitively as well, hence the practical aspect of the PDW in gait analysis is the separation of the purely mechanical aspects of walking from the neurological controls of the human body. This concept also enables researchers to analyze the effects of various rehabilitation methods to normal and pathological gaits. Below is a video of a passive dynamic walker.
Passive Dynamic Walker Research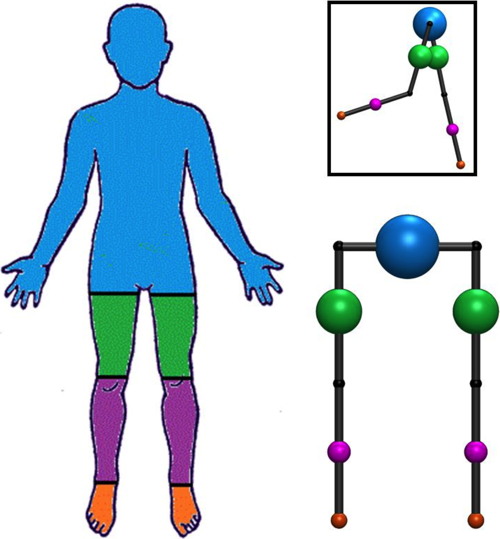 PDW compared to person
Our PDW research broadly includes the application, analysis, and testing of the PDW to human gait patterns such as symmetric, asymmetric, or other forms of impaired walking patterns. These walking conditions include tied and split belt walking or walking on the Gait Enhancing Mobile Shoe (GEMS). A PDW computer model enables researchers to vary various model parameters such as limb lengths, limb masses, or to generate asymmetries which can result in interesting gait behavior, while a human size physical walker can be used to validate the theoretical to the physical reality.
Asymmetric Passive Dynamic Walker
Persons that have experienced a stroke or neurological trauma often develop an asymmetric walking pattern (hemiparesis), inhibiting their everyday mobility. The key is the understanding of the dynamics of such impairments and how to apply the most effective rehabilitation dynamics for proper rehabilitation.
The PDW model can be used to simulate and analyze the walking dynamics of a person suffering from hemiparesis. Therefore, this model can be used to examine the effectiveness of various rehabilitative dynamics (split-belt treadmills, GEMS, etc.) onto the "impaired" model, hence, rehabilitating it back to a normal gait. Unlike other approaches, this approach focuses on the mechanical kinematics and kinetics and intentionally leaves out the cognitive variable. The cognitive aspect will be tested on humans using the methods that have the highest likelihood of working based on the dynamic analysis, thus reducing the amount of human subject testing required.
Prosthesis Design Based on an Asymmetric Passive Dynamic Walker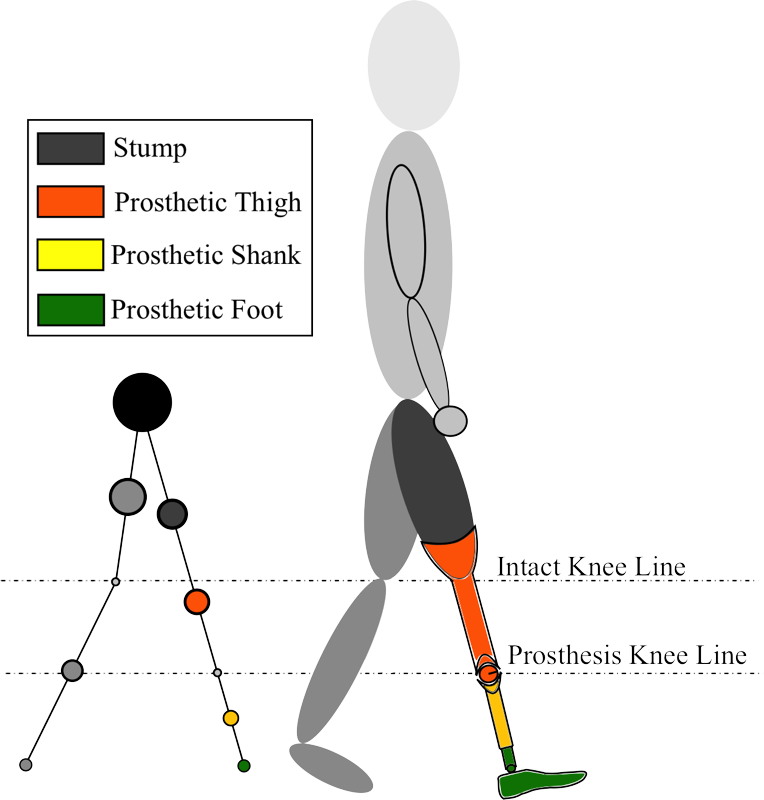 Moved knee location in a prosthetic
The research of the asymmetries in the passive dynamic walker resulted in rather interesting results. As walker parameters were systematically changed, interesting stable asymmetric walking pattern arise such as single, double, and quadruple step pattern. Since changing some walker parameters can lead to asymmetric step patterns, can asymmetric walker parameters lead to a normal symmetric step pattern? It turns out that it can. This leads to our discovery that given the right limb lengths and mass distributions, the knee location on a prosthetic does not necessarily have to match the knee location on the healthy leg. This patented application leads to a potential prosthetic mass reduction and a more symmetric walking pattern in persons wearing such a prosthetic leg.
Related Publications